How to Plant Grass Seed on Slopes and Hills
Having a yard that includes gentle slopes and hills has its benefits. Even slight variations in terrain enhance your feeling of privacy and give backyard play times with kids, pets and adults an added boost of fun. But planting grass or repairing grass damage on slopes — and keeping seed from washing downhill — can be tricky unless you know the best approach. By understanding how to overcome a hilly yard, you can plant grass seed on a slope, keep seed where you plant it and enjoy lush, green grass even on hills.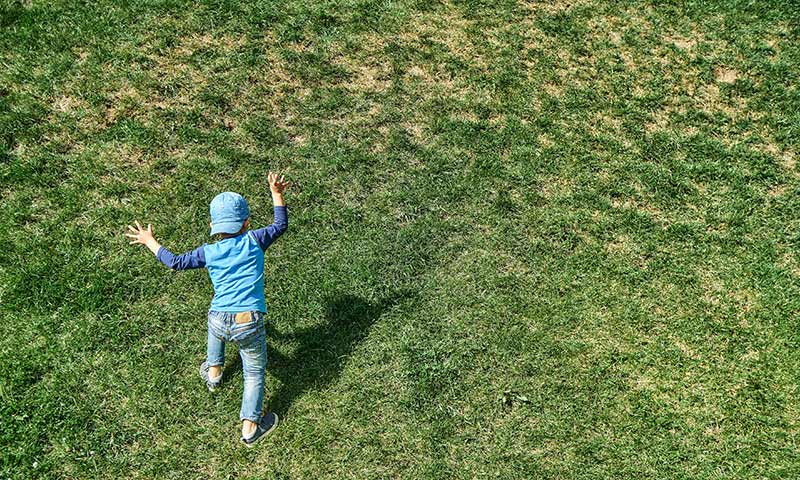 Without grass or other plants on your slopes or hills, your yard's soil is at the mercy of wind and rain. Even small backyard hills can suffer erosion without grass leaves and roots to protect your soil and hold it in place.
The best product for planting grass seed on a slope depends on the size of the area involved and just how hilly your backyard is. But successful grass plantings on hills combine these things:
Seeding products that prepare seed for healthy, vigorous establishment.
Grass seed varieties or seeding mixtures that germinate and establish roots quickly.
Seeding products that help protect seed or hold it in place until seed takes root.
Follow-up care that keeps grass on slopes and hills healthy and vigorous and helps roots grow strong and deep.
Seed products such as Pennington Smart Seed grass seed products include fertilizer to nourish new seed with the essential nutrients it needs to start out strong. Mixes that include fast-germinating grasses, such as Pennington's patented American Ryegrass, help stabilize slopes while slower grasses get growing — plus they give you quick color, too. And when seeding mixtures or repair products include tackifiers, like Pennington Smart Patch does, grass seed stays put when you plant grass on slopes or hills.
When family fun leaves backyard slopes dotted with damage or bare spots, you need a lawn repair product that works on hills or level ground. Pennington Smart Patch bare spot repair combines our drought-tolerant Smart Seed with a professional-grade fertilizer, a color-changing mulch and beneficial microbials that actually improve soil and lawn health. But best of all for slopes and hills, Smart Patch's water-soluble tackifier acts as a protective blanket to hold seed in place, even in rain.
With Smart Patch, you can choose from seeding mixes designed for Sun & Shade, Dense Shade or Tall Fescue lawns that include quick-germinating American Ryegrass. You'll see green growth in as little as five days and full results as soon as two weeks. For Bermudagrass slopes, turn to Smart Patch Bermudagrass Mix. Enhanced with Chewings fescue for fast establishment, this product delivers visible results as soon as one week after planting and full results in as little as 22 days.
And if your thin or bare spots are due to pet urine or lawn disease, you can rest easy. The microbials in Smart Patch work to neutralize pet damage, poor soil conditions and lawn disease. Follow the label instructions for the best seeding rate for your project, whether you're repairing bare lawn spots or overseeding thin grass on your slopes or hills.
Seeding bare hillsides and large sloping areas of your lawn calls for the best quality grass seed and seeding products that work together to protect soil and seed, so neither one washes away before new grass takes hold. With water-conserving Pennington Smart Seed grass seed and fertilizer mixes, you can choose the best grass type for your growing region and conditions such as shady lawn areas and heavy kid or pet traffic.
Existing grass on slopes can help new grass seed stay in place, but that's not always enough. One way to protect your investment in larger-scale plantings is to follow the lead of erosion control pros and use mats to help keep seed in place. Netless, biodegradable Pennington Seed Starter Mats hold your grass seed where you plant it without ugly netting or messy straw. The mats' natural wood fibers help retain moisture and discourage weeds that compete for water and nutrients. Plus, you can mow right over Pennington mats when mowing time comes.
If your slope is too steep to mow safely, consider low-maintenance alternatives that secure erosion-prone soil and keep your hills and slopes attractive and green. Pennington Slopemaster seed mixture combines deep-rooting, drought-tolerant grasses with durable Durana white clover to stabilize slopes and complement your lawn — and provide pollen and nectar for pollinators.
Whether you're patching lawn spots or seeding bare slopes, always follow your product's label instructions for initial care of your planting. Proper watering is critical during seedling germination and establishment, so follow instructions carefully. The mulch in Pennington Smart Patch changes color from dark to light brown as it dries, so you always know when it's watering time.
If you use a fertilizer-enhanced seed product, such as Smart Seed mixes or Smart Patch products, your new planting has the nutrients needed for vigorous growth. If your seeding product doesn't include fertilizer, a starter fertilizer such as Pennington Ultragreen Starter Fertilizer 22-23-4 provides your planting with essential nutrients, including phosphorus for vigorous roots and nitrogen for rich green growth.
Avoid using weed preventers or weed & feed products on newly seeded slopes and hills — before and after seeding. Even the best herbicide-fertilizer products can't tell the difference between weed seeds and grass seeds, and some grass types are very sensitive to herbicides. So always read and follow the guidelines on your product label for your grass types.
As a general rule, wait at least 60 days and two mowings before you seed or overseed areas treated with crabgrass preventers. After you seed your slopes and hills, wait until new grass gets established and you mow at least three times before applying weed & feed. Once your grass establishes, feed your lawn regularly with quality fertilizers such as those in the Pennington UltraGreen line.
With lush, green grass on your slopes and hills, you and your family can enjoy all the benefits of a beautiful, healthy lawn. At Pennington, we work hard every day to bring you the finest grass seed and lawn products so that you and your lawn can succeed. Have a question? We have answers. Have a comment? We'd love to hear from you. We're here for you, every step of the way.
Always read product labels thoroughly and follow instructions.