Best Grasses for Kid and Pet Traffic
Owning your first lawn is one of life's milestones — one that may bring back memories of days spent playing frisbee with your childhood pet or backyard baseball with neighborhood friends. Now that you have a lawn of your own, how can you choose between beautiful, lush grass or a lawn that stands up to pets and kids? Fortunately, you don't have to. You can have it all with grasses that withstand heavy use.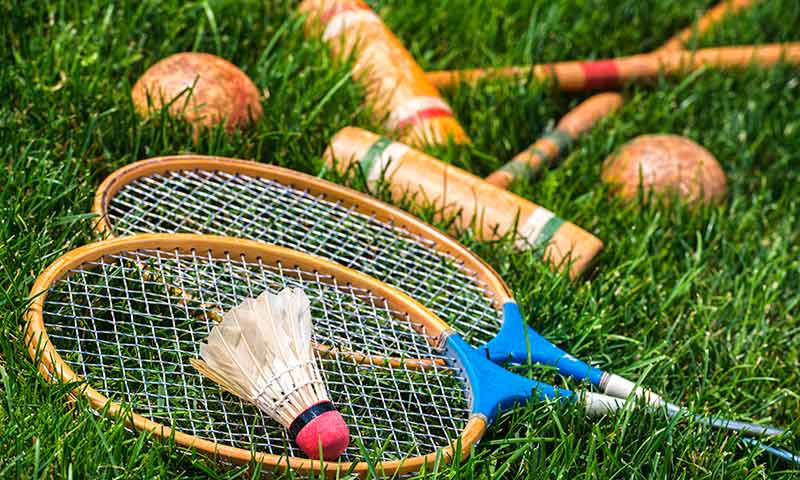 Backyard games and rich, lush lawns go hand in hand.
When your goal is a lawn that looks great and performs under wear and tear, it's important to start with the right grasses for your growing region. For northern areas of the United States where cold winters and moderate summers rule, you want the best cool-season grasses. In southern areas where lawns face mild winters and hot summers, you need the best warm-season grass types.
Grass characteristics, such as the following, affect how lawns perform under the stress that comes from outdoor entertaining and playtime with kids and pets:
Growth habit – Vigorous, spreading growth creates a dense turf that protects grass plants and creates soft landing spots for knees and elbows. Clump-forming, non-spreading grasses are more vulnerable to wear.
Ability to recuperate – Spreading grasses fill in worn spots and divots more rapidly than clump-forming types, so they recover faster when damage occurs. Non-spreading grasses may need overseeding to boost recovery.
Fast germination and establishment – Faster germination and rooting shortens the time frame to get your lawn ready for activity. These grass types also help stabilize lawns while slower-germinating grasses become established.
Drought and heat tolerance – Tolerance to stresses such as heat and drought translate to better wear resistance and less traffic damage. Grasses with deep, extensive root systems tolerate these stresses better than other grass types.
Pest resistance – Lawn pests such as weeds, disease and insects can reduce your lawn's ability to handle heavy use. Vigorous, dense grasses outcompete weeds and other pests to improve your lawn's traffic tolerance.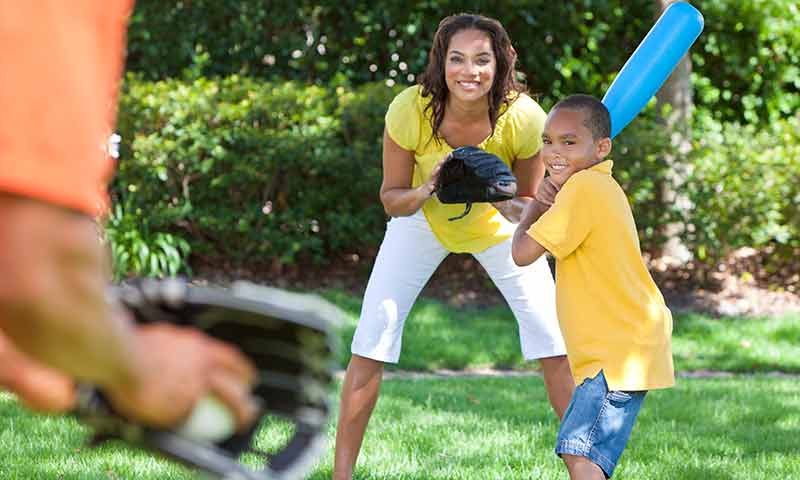 Of all the common U.S. lawn grasses, three cool-season grasses top the list for active lawns: Kentucky bluegrass, perennial ryegrass and turf-type tall fescue. While each of these grasses have traits suited to active lawns, the best results come from combinations that build on the strengths of two or more types. That's why professional seed mixes for athletic fields, such as Pennington Smart Seed Pro Athletic Field Mix and economical Pennington Athletic Field Mixture include all of these leading grasses:
Kentucky bluegrass - Referred to by the pros as KBG, Kentucky bluegrass grows and spreads aggressively via underground stems known as rhizomes. Though it's slower to germinate than some other choices, KBG's growth habit helps it resist wear, fight weeds and quickly recuperate from damage. Premium water-conserving Smart Seed grass varieties in Pennington Smart Seed Kentucky Bluegrass offer improved drought and heat resistance that enhance traffic tolerance.
Perennial ryegrass - As the fastest-germinating common cool-season lawn grass, perennial ryegrass is ideal for overseeding thin, high-traffic lawn areas. Vigorous seedling growth helps keep weeds at bay, while extensive roots enhance wear tolerance. A key component in mixes for recreational areas, perennial ryegrass also tolerates the compacted soil that can happen with extensive lawn use. Improved varieties in Pennington Smart Seed Perennial Ryegrass need less mowing than common ryegrass, so you can mow less and play more.
Turf-type tall fescue - Naturally deep, extensive roots give tall fescue excellent heat and drought tolerance as well as increased resistance to digging dogs and rambunctious play. The premium turf-type tall fescue varieties in Pennington Smart Seed Tall Fescue offer improved heat, drought and disease resistance plus lower, more uniform growth. That means excellent wear tolerance, less watering and less mowing for you.
Perennial ryegrass and tall fescue don't have the spreading growth of Kentucky bluegrass, so they don't recuperate as quickly. But lawn thickening and repair products such as Pennington's Lawn Booster Sun & Shade and Lawn Booster Tall Fescue provide everything you need to thicken your active lawn with one application. All-in-one Pennington One Step Complete makes lawn repairs quick and easy, so you say goodbye to bare lawns spots in two weeks or less.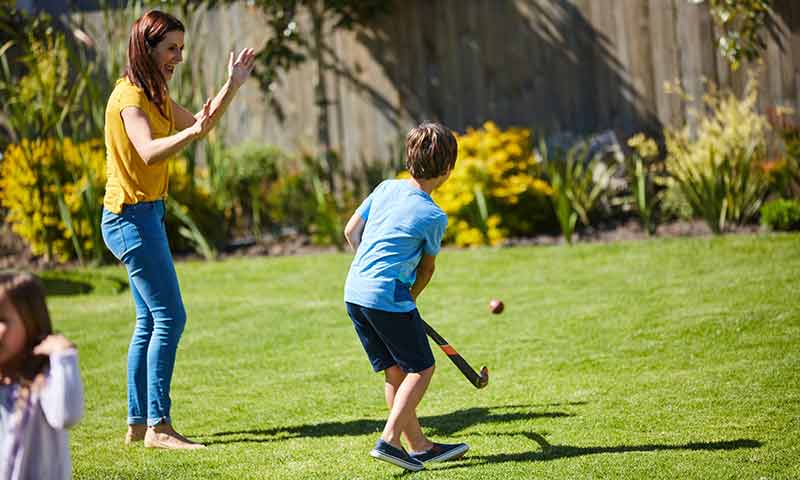 Family time in your lawn yields happy memories.
For southern lawns, one warm-season grass stands far above the rest for use in high-traffic areas, from professional athletic fields to home lawns: Bermudagrass. Unlike northern lawns that benefit from a mix of grass types, active southern lawns excel with a blend of this single grass type.
Bermudagrass - Like cool-season Kentucky bluegrass, Bermudagrass is an aggressive, spreading and self-repairing grass that's ideal for active lawns. With extremely deep roots and dense growth, it tolerates heat, drought and heavy use. Plus, this salt-tolerant grass resists damage from the natural salts in dog urine. The premium varieties in Pennington Bermudagrass seed blends offer improved cold tolerance along with durability. With Pennington One Step Bermudagrass, you can fix dog urine spots and other damage following label directions in just three weeks.
Wherever you live, always allow time for grass to get established once you plant new grass seed. Depending on the type of grass you choose, new seedlings may require three months or more before they're ready for regular foot traffic. Most grasses need a full growing season before they're mature enough to take steady play and heavy use.
Pennington has been helping homeowners grow the lawns of their dreams for more than three generations. We're committed to providing you with the best grass seed and lawn care products so you and your family can enjoy a beautiful lawn and create new memories.
Always read product labels thoroughly and follow instructions.
Pennington, One Step Complete and Smart Seed are trademarks of Pennington Seed, Inc.