How to Plant Grass Seed on Slopes and Hills
Having a yard with gentle slopes and hills has benefits. Besides the obvious fun of rolling and running down hillsides, variations in terrain enhance the privacy of your own space. But getting grass seed to stay where you plant it on slopes and hills can be tricky unless you know the ropes. That's where we come in. We're here to help you conquer slopes, keep seed put and enjoy a lush, sustainable lawn even on hills.
Without grass or sustainable lawn alternatives on your slopes or hills, your yard's soil is at the mercy of wind and rain. Even small backyard hills can suffer erosion without foliage and roots to protect your soil and hold it in place.
Finding the best lawn product for planting your slope depends on the size of the area and the steepness of your hills. But successful, sustainable hillside plantings combine these things:
Seeding products designed for healthy, vigorous establishment.
Seed mixtures that quickly germinate and take root.
Seeding products that help seed stay put until roots establish.
Ongoing care to keep hillside lawns strong, vigorous and healthy.
Pennington Smart Seed Clover + Grass Seed combines self-sustaining Durana white clover with water-conserving grass varieties that use up to 30% less water than ordinary grass seed. Naturally self-fertilizing, this premium clover mix helps prevent erosion and keep soil and seed in place. You get an attractive, more natural-looking, sustainable lawn that establishes quickly and last for years. Plus, your neighborhood pollinators get clover's pollen and nectar.
For a more traditional water-smart lawn, Pennington Smart Seed grass seed products include fertilizer to nourish new seed with essential nutrients and get them started fast. Mixes that include fast-germinating grasses help stabilize your hills and slopes while slower grasses get growing — plus they give you quick color while they do.

When families and friends play hard, quick lawn repairs keep slopes lush.
It's a fact of life that outdoor fun can leave backyard slopes a little patchy. When bare spots or lawn damage pop up, you need a lawn repair product that works on hills as well as level ground.
With Pennington Smart Patch bare spot repair, you get drought-tolerant Smart Seed, a professional-grade fertilizer, mulch and beneficial microorganisms that actually improve soil and lawn health. But best of all for slopes and hills, Smart Patch's water-soluble tackifier acts like a botanical blanket to hold your seed in place, even in rain.
With Smart Patch, you can choose from seeding mixes that include quick-germinating American Ryegrass. You'll see green growth in as little as five days and full results as soon as two weeks. For Bermudagrass slopes, fast-establishing Smart Patch Bermudagrass Mix delivers results you can see one week after planting. Full results follow in as little as 22 days.
If pet urine or lawn disease is behind your thin or bare spots, we have that covered, too. The microbes in Smart Patch work to overcome pet damage and poor soil conditions that can lead to lawn disease. Just follow the label instructions for the best seeding rate for your project, and Rover will soon be rolling on grassy hills again.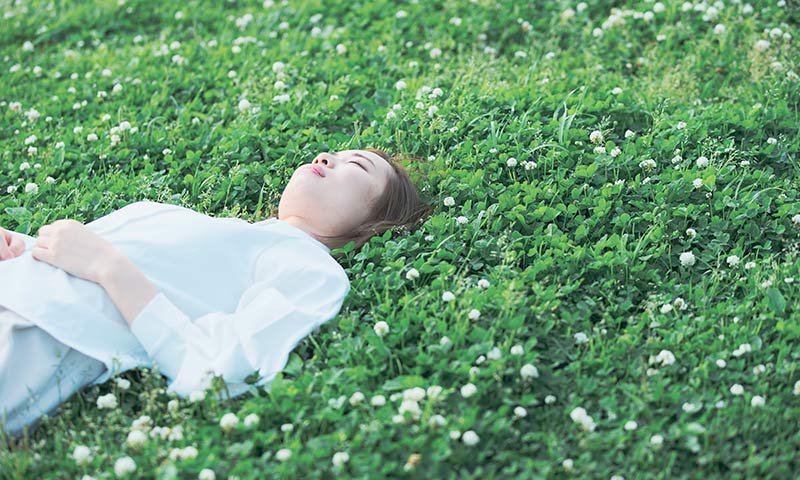 Sustainable lawns of clover and grass quickly cover hills and slopes.
Seeding bare hillsides or large sloping areas calls for some creative collaboration. You need products that work in unison to protect soil and seed, so neither one washes away before roots take hold. Water-conserving Pennington Smart Seed Clover + Grass Seed and other Pennington Smart Seed grass seed and fertilizer mixes help you succeed, whether your perfect lawn is untraditional clover or sustainable turfgrasses.
Existing grass on slopes can help keep new seed in place, but it's not always enough. If your hills are steep, protect your slice of earth with seeding mats like erosion control pros use. Netless, biodegradable Pennington Seed Starter Mats keep seed where you plant it without ugly netting or messy straw. The mats' natural wood fibers help retain moisture and discourage weeds. Plus, you can mow right over Pennington mats when the time comes.
If your slope is steep, that's even more reason to consider low-maintenance alternatives like Pennington Smart Seed Clover + Grass Seed. It helps stabilize slopes, complements traditional and alternative lawns, and only requires occasional maintenance. But for super-steep lawns — too steep for safe mowing — go straight for alternatives like a wildflower meadow of your very own.
A more natural lawn keeps hillside mowing to a minimum.
Whether you're patching lawn spots or seeding bare slopes, always follow your product's label instructions. Trust us — we've got lawns down. Proper watering is critical during seedling germination and establishment, so don't cut corners. To make it even easier, Pennington Smart Patch mulch changes color from dark to light brown as it dries, so you know when it's watering time.
Avoid using weed preventers or weed and feed products on slopes and hills before and after seeding. Even the best herbicides can't tell the difference between weed seeds and grass seeds. Some grass types are very sensitive to herbicides, and broadleaf weed killers can kill clover. So read and follow the guidelines on your product label for your lawn types.
With Pennington Smart Seed Clover + Grass Seed, nitrogen-fixing clover fertilizes itself so you don't have to. With our fertilizer-enhanced Smart Seed mixes or Smart Patch products, your new hillside planting gets the nutrients it needs for vigorous growth from the start.
With Pennington, you can enjoy the fun ups and downs of hilly yards and have a healthy, amazing, sustainable lawn. Ready to help your hills reach their full green potential? We thought so. We've been helping lawn and garden dreams come true since 1945. It's your time. We're here for you.
Always read product labels thoroughly and follow instructions.